Fralock offers ultra-thin flexible zirconia substrates in sizes up to 185mm, with standard thicknesses 20 μ and 40 μ.
Made from zirconium oxide, this highly-flexible ceramic substrate has excellent strength and a high resistance to corrosion, wear and abrasion. Since it has a high tolerance to degradation and high resistance to developing cracks, zirconia is ideal for solid state and thin film devices, flexible hybrid electronics and sensors where durable flexibility is required.
Zirconia is used in structural ceramics in electronics, oxygen sensors and dental ceramics.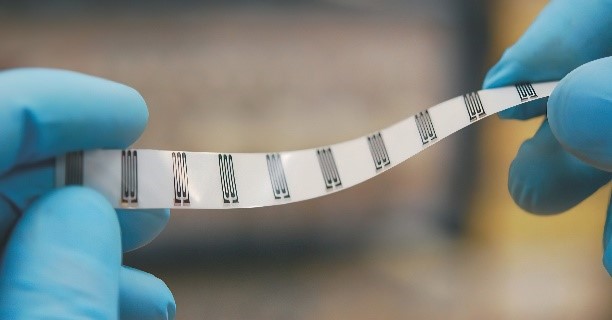 Highly effective barrier
Durable
Lightweight
Translucent
Wear resistant
Corrosion resistant
Biocompatible
This thin, flexible substrate offers a suite of benefits not found in other materials
High-Temperature Resistant
No Outgassing
High-Purity Ceramic
Resistant to Thermal Shock
Dimensionally Stable
Patterned by STD Techniques
Solid-State Batteries
Harsh-environment Sensors
Flexible thin ceramic circuits
Portable Electronics
Display Backplanes
Bio-Compatible Medical Devices
Heaters
Zirconia with metallization in a radiation sensor