The culture at Fralock incorporates an inclusive and professional atmosphere with mutual support, teamwork and collaboration, innovative thinking, and continuous improvement.
We value everyone's contribution, and believe that we grow smarter and raise our value by achieving standards in:
Respect
Integrity
Responsiveness
Excellence/Competence
Team Work
Individual Accountability and Personal Responsibility
Confidentiality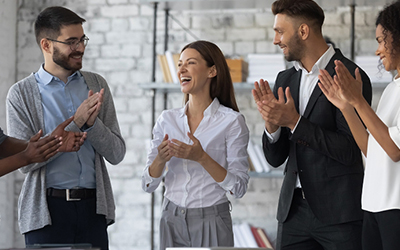 We value the ideas of our team, and appreciate that constructive changes can come from people in all different levels of the company.
Innovation and ideas are encouraged, and we reward those who go above and beyond to contribute ideas and actions.
We regularly hold company events that strengthen our company cohesion and team building, as well as to give back to our community.
Company-wide lunches are sponsored (when there is no pandemic)
Community Connection – Fralock participates in food, toy, and clothing drives, as well as public health issue communications such as breast cancer awareness. Team members are encouraged to participate and are rewarded with prizes and recognition.
Continuous Learning and Improvement – Self-improvement is highly encouraged at Fralock; employees can advance their skills with voluntary training in selected areas. Additionally, our dedicated safety committee works tirelessly to train everyone and ensure that our work environment is safe and hazards are minimized. Fralock also follows all ISO training guidelines and workmanship standards.
At Fralock we recognize the importance of a culture of inclusion in the workplace. We require diversity awareness and cultural proficiency training for all senior leadership, management and employees. We comprise a wide variety of backgrounds, cultures and experience, and we strive to create an inviting and equitable workplace environment. Our strategic approach dictates that we practice commitment to diversity and inclusion.
Diverse hiring practices
Review policies and other data to assess diversity and inclusion within the company
Encourage employees to come forward and share experiences of mistreatment and discrimination.
Train/educate all employees on anti-discrimination laws.
Evaluate culture change.
Our company values are reflected in the teams within our company, which help to distribute knowledge and awareness within the organization.
We currently support teams such as the Culture, Safety, First Responder, and Super-User Team for our ERP
(enterprise resource planning) platform.